about us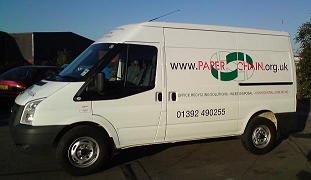 Paperchain Co-operative began life in 1990 as a community based office paper recycling scheme. The Co-op has stayed true to it's not for profit ideals, its members being committed to equality of status and pay and we have been recycling as a local social enterprise for thirty years. Although we are a not for profit company we aim to run an efficient, modern and ethical company making enough profit to cover our costs and invest in our future.
Paperchain takes a strong stance on recycling enabling us to provide good quality materials that can be effectively recycled into quality products. We continue to care for the environment and reduce our carbon footprint all round.
Original partners in the Co-op included Exeter City Council, BT, Devon County Council, Exeter Friends of the Earth and Devon Wildlife Trust.
Paperchain has developed as a business over the years from initial office paper collections through pioneering many recycling services in the 1990s such as Exeter's first Materials Recovery Facility to the many services we offer now.
To see all our services please use the links to the left.
Currently over 600 businesses in the Exeter area use our services ranging from private individuals to large companies, charities, schools, hospitals, local authorities and government departments.
---