confidential destruction
We have an established service for the destruction of confidential papers, documents, files, etc, which is used by solicitors, accountants, insurance companies, employment agencies, educational establishments and a wide variety of other establishments in the Exeter area, and increasingly, further afield.
We provide dedicated red polypropylene sacks and security ties (if requested) free of charge for you to fill. Please see collection bins as optional storage solution for our sacks.
There is no minimum or maximum quantity, and as the shredded waste is recycled into low-grade paper products any paper-based material can be included (but please remove all plastic, hanging files, lever arch folders etc)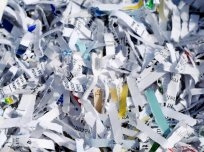 Please call us for up to date competitive charges for collection and shredding of your confidential paper material on 07549 653352

A Confidential Waste Transfer Note is issued at the time of collection and invoices are sent out monthly along with a Certificate of Destruction.
confidential destruction of plastic
Paperchain are able to provide the confidential destruction of CDs, Tapes, Videos, Flash drives, Acetates, X-rays etc.
confidential destruction of computer hard/flash drives
Paperchain are able to provide the confidential destruction of data on hard/flash drives to HM Government standards. This can be carried out on or off site and a full report is produced to confirm the destruction and standard. If the wiped unit needs disposal please see WEEE for prices.
Full confidentiality is assured at all stages; please see our Confidential Destruction Service Policy for more details.
All our workers are DBS checked and have signed a Deed of Confidentiality.
---